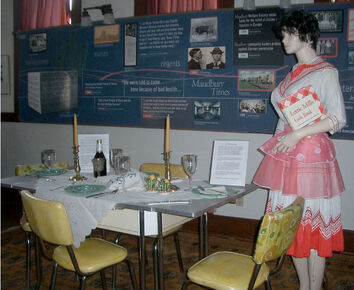 Maudbury Historical Museum is currently housed in the Chrisfield Manor. It is ran by the Maundbury Historical Society . Most of the museum is housed on the first floor of the mansion. The permanent exhibits include the fishing industry, the Industrialists, and an over view of the pre-history of Maundbury. The north wing of the mansion is fully restored and tours are given daily during the summer, and on special occasions during the rest of the year. Plans are underway to refurbish one of the guest houses to rent out for events.

Special Days:
New Years: A ball is held
Easter: Easter Egg hunt and bunch.
Halloween: The mansion is opened to the public for ghost stories, party games, and trick or treating the rooms.
Christmas: By invite only, a Christmas celebration. This is for the less fortunate in the town. This celebration is run with the St. Mary's Home .
Rumors of a ghost nearly shut down the Halloween party in 1963. Many children claimed they saw a bloodied man walking in the gardens. The grounds were searched. No ghosts or man were found.