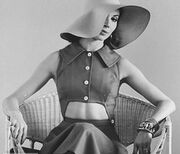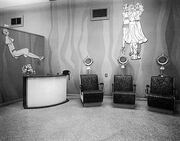 Jacqueline Stoddard

b February 2, 1943

Parents Charles & Ruth Stoddard,

Jacqueline owns the Cosmopolitan Beauty Salon (formerly Maria's Beauty Shop). Not a beautician herself, she purchased the salon with a portion of her inheritance in 1965 when the previous owner, Maria Lyttle, decided the years of chemical fumes from permanents and hair colorings were causing her strange hallucinations and retired to Florida. Maria, unfortunately, disappeared en route to her new home and hasn't been heard from since.
Jacqueline hired two beauticians from New York, Cecile Chevalier and Dinah DuPont . The ladies are in constant demand for social occasions, weddings, and funerals. No one, and I mean no one in the state is better at providing the "Don't they look natural" look to our recent deceased than Ms. Chevalier. Some folks whisper that there's more than beauty school training in her uncanny abilities with hair, makeup, and nails.
Jacqueline's parents were less than enthusiastic when Jacqueline purchased the salon. Especially her mother, who thought the endeavor was beneath a Stoddard and exclaimed herself too embarrassed to "ever show her face again" at the Maundbury Social Club . However, the embarrassment ceased when a national lady's magazine ran an article on Jacqueline's salon, making it "The Salon" of the northeast for the latest styles. Jacqueline had to hire two local teenage girls as shampoo & sweep girls to keep up with the growing number of new clientele and appointments.
Other than her business acumen, Ms. Stoddard also excels at gossip. She listens to every juicy tidbit uttered by the old biddies who frequent her salon, and files each away as carefully as she files her clientele's preferred hair style and color.