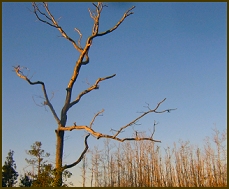 The weald was a farm at the end of the nineteenth century, but its owners abandoned it and within a year it was gone, consumed by a sudden proliferation of trees and skulking forest creatures. Regardless of the weather and season the trees have few leaves and many spindly branches, but refuse to die.
Ad blocker interference detected!
Wikia is a free-to-use site that makes money from advertising. We have a modified experience for viewers using ad blockers

Wikia is not accessible if you've made further modifications. Remove the custom ad blocker rule(s) and the page will load as expected.